We have a warm welcome for cyclists and pilgrims, with offers suited to their needs and their budgets.
The Landes Département is a wonderland for cyclists, with 600 km of cyclable tracks, routes for walkers, and signposted tracks.
The Laha "camping nature" is close to a number of routes, 3 km away there is access to the cyclable "way of the résinier" (pine-resin producer) which will take you either to the beach or to Arjuzanx.

Cyclists can pitch their tents either just for the night or stay a few days to explore the different tracks around the campsite.
Near the Laha campsite is Lesperon, andthe Route from Tours, which is one of the main routes to St-Jacques de Compostelle.
Pilgrims are very welcome to stay and recuperate their energy to continue. We will stamp your credentials.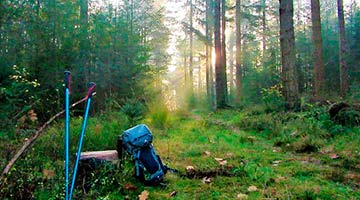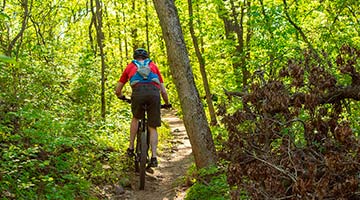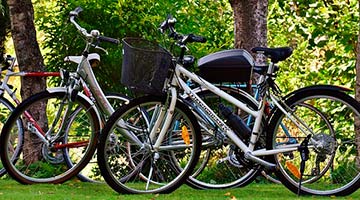 Whether you are a cyclist or a pilgrim, there are several ways to stay:
You have your own camping equipment
-1 night on a bare pitch at a very low price: Of course you have access to the sanitary facilities with hot showers at will. Near the snack bar you will find barbecues available (don't forget your charcoal and your grills) as well as a picnic table. Each pitch is equipped with an electric socket allowing you to recharge your GPS and mobile phone.
-1 night in a pitch with a special cyclist or pilgrim package. This includes, in addition to the pitch and access to the sanitary facilities, 1 meal (1 dish, 1 drink and 1 dessert), 1 breakfast (1 pastry, 1 hot drink, orange juice, bread, butter, jam) and the possibility to recharge your mobile phone and GPS.
For those who want a little more comfort or who travel light without equipment, we suggest our accommodation specially designed for globetrotters:
-The Bivouac hut, is a tent equipped without sanitary facilities or heating. You will have a space of 10 m². On the ground floor: table, fridge, hotplate, coffee maker and crockery for 2 people. Upstairs: a cosy sleeping area with 2 mattresses, pillows and blankets.
You can protect your bikes under a shelter next to the hut. This accommodation can be rented by the night or for several nights. Remember to book in advance.
-Our latest addition is the Moorea tent, a Canadian tent made of canvas and a wooden frame on the floor, which will allow you to recharge your batteries under cover. It is composed of 2 beds 70×190 with pillows and blankets. It has lamps and electric sockets, so you can recharge your mobile phones. This rental is without heating or sanitary facilities, the sanitary facilities are shared with the other campers. A wooden terrace extends the tent, comfortably installed you can relax in front of the pine forest that borders the campsite.
Sheets are not provided in the rentals, but if you do not wish to load your luggage, we offer you the possibility of renting bed linen.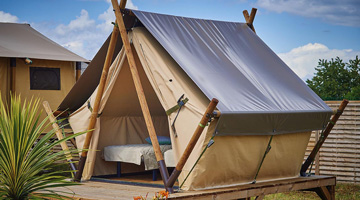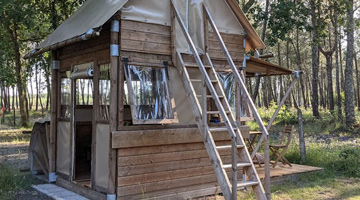 And then, you only need to take to your bike, or walking-shoes and explore Les Landes at leisure, a well preserved natural region, and huge.
On your own, en famille, as a couple or with friends, from a family walk to a sporting activity or to accompany spiritual reflection, you will trace out Les Landes, its forest paths, lake-sides; the old but now converted railway tracks, and the many routes through the forest of pine trees.
We look forward to welcoming you,
Xavier and Laure