We have a warm welcome for cyclists and pilgrims, with offers suited to their needs and their budgets.
The Landes Département is a wonderland for cyclists, with 600 km of cyclable tracks, routes for walkers, and signposted tracks.
The Laha "camping nature" is close to a number of routes, 3 km away there is access to the cyclable "way of the résinier" (pine-resin producer) which will take you either to the beach or to Arjuzanx.

Cyclists can pitch their tents either just for the night or stay a few days to explore the different tracks around the campsite.
Near the Laha campsite is Lesperon, andthe Route from Tours, which is one of the main routes to St-Jacques de Compostelle.
Pilgrims are very welcome to stay and recuperate their energy to continue. We will stamp your credentials.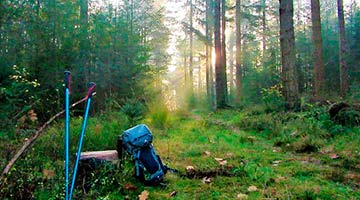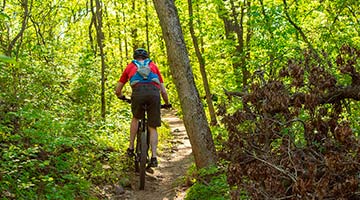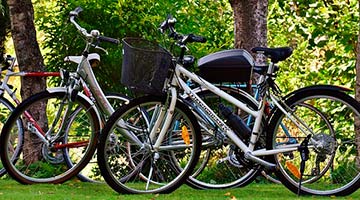 For both cyclists and Pilgrims, we offer a number of possibilities:
– 1 night with an pitch at a low price
– 1 night with an pitch including a package with a special reduction for cyclists and pilgrims.
This includes, on top of the pitch, one meal (main course, drink and dessert), one breakfast (1 pastry, 1 hot drink, orange juice, bread, butter, and jam); plus the possibility of charging mobile devices and the GPS.
For those who seek a little more comfort, we suggest our "Bivouac cabin", an equipped tent with a wooden framework, but without sanitary fittings; it gives you ten square metres of space. On the ground floor, a table, fridge, hot-plate for cooking, coffee machine, and crockery for two. Above, a comfortable sleeping space with two mattresses, pillows, and blankets. Your bikes will go into a shelter attached to the cabin. This can be rented for one or several nights; but think about booking it in advance.
And then, you only need to take to your bike, or walking-shoes and explore Les Landes at leisure, a well preserved natural region, and huge.
On your own, en famille, as a couple or with friends, from a family walk to a sporting activity or to accompany spiritual reflection, you will trace out Les Landes, its forest paths, lake-sides; the old but now converted railway tracks, and the many routes through the forest of pine trees.
We look forward to welcoming you,
Xavier and Laure